Casey
Solid
Features
Complete compatibility with Freshdesk and more features
Theme is not compatible with Freshservice
Compatible with Freshdesk Mint if you order Customization

Pro and Enterprise plans

Compatible with modern browsers

Includes free installation

Customization services are optional
This theme is not compatible with Freshdesk colors and fonts variables
About the theme
Casey is a smart, very moderate and cool template for Freshdesk support centers, which has "nothing extra" in its design. At the same time, it has a wide range of additional features, including the Font Awesome icons, additional components and customizable features. This is a perfect theme for ambitious, business-minded people who like clean and unobtrusive pages with a graceful logo standing out in the top left corner.
Although brand is a very important aspect of any business, 
branding your Freshdesk support center
is not an easy job. The Casey theme is graceful on its own, and if you decide to add your corporate colors and customize it according to your requirements, it will become an impeccable help for the hub of your business with a trustworthy look and feel.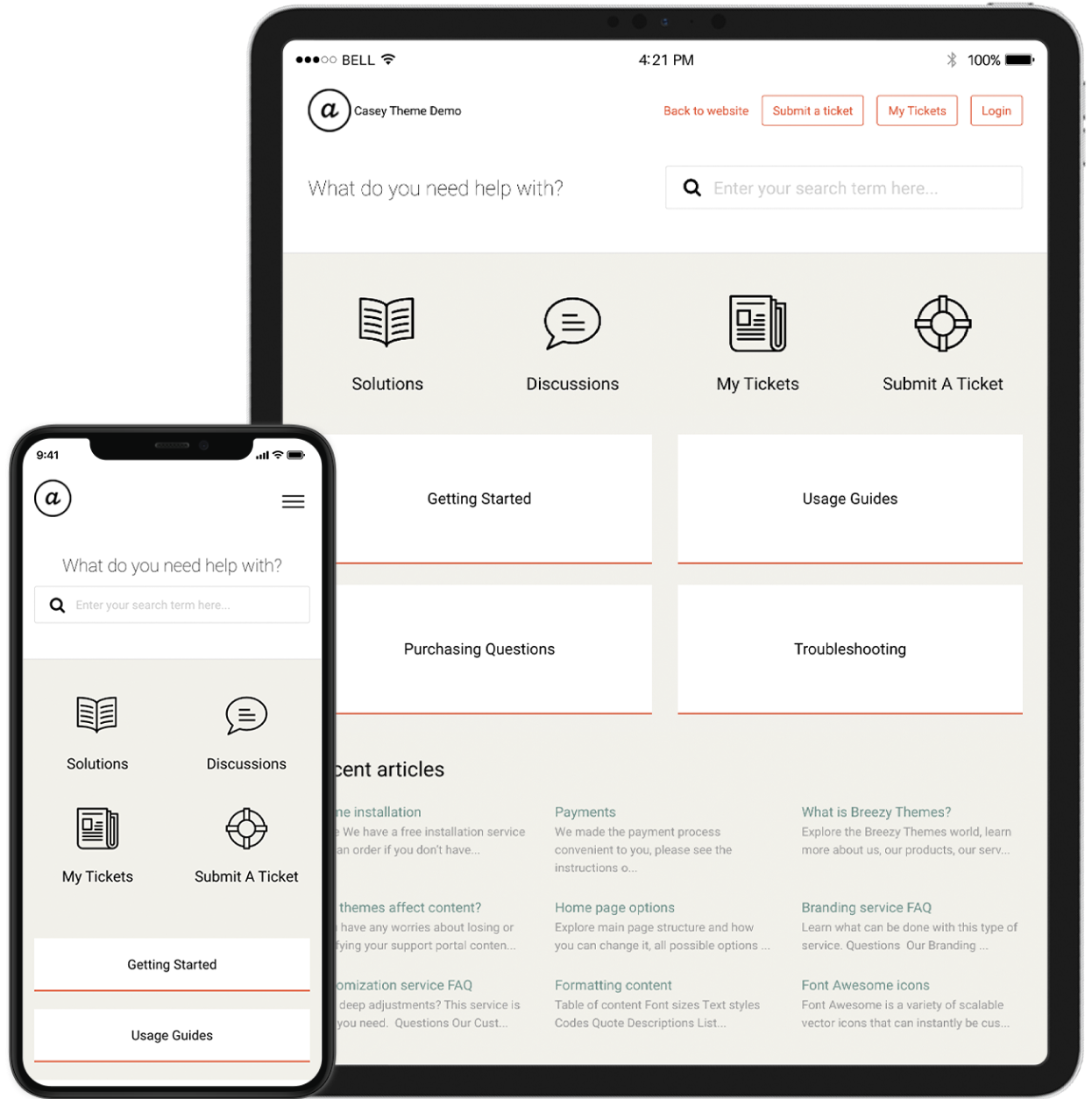 Formatting Components
To help you create appealing and easy-to-navigate content, all our knowledge base themes for Freshdesk support portal include formatting components which aren't part of the standard Freshdesk and Freshservice template. Themes for Freshdesk support portal from Breezy Themes already have everything to make changes in your articles without having to add numerous features and plugins.
Responsive & Retina-ready
Our responsive themes for Freshdesk Support Portal are designed for all kinds of devices and all major browsers. Your customers will be able to use your Support Portal on any device — either on a large desktop or on a small smartphone. To ensure that themes are cross-browser and cross-device compatible we put our themes through extensive testing.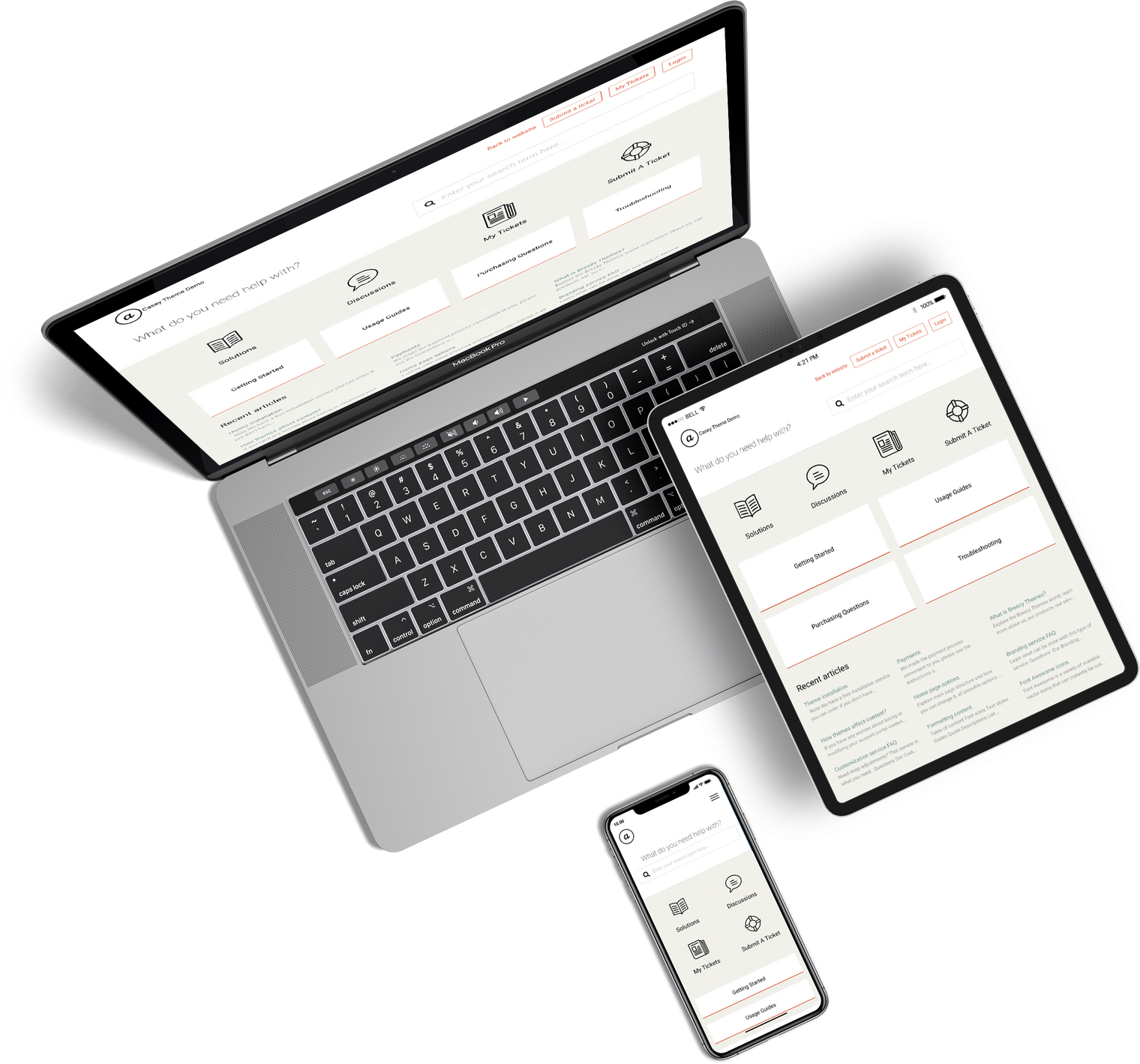 Customizable homepage
Choose any one of the three existing page layouts or mix them as you wish.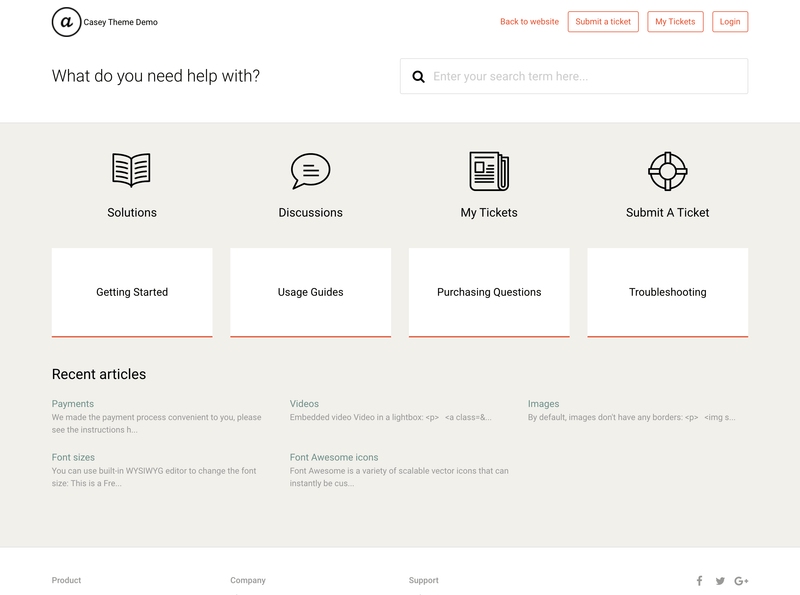 Custom Blocks + Topic List + Recent Articles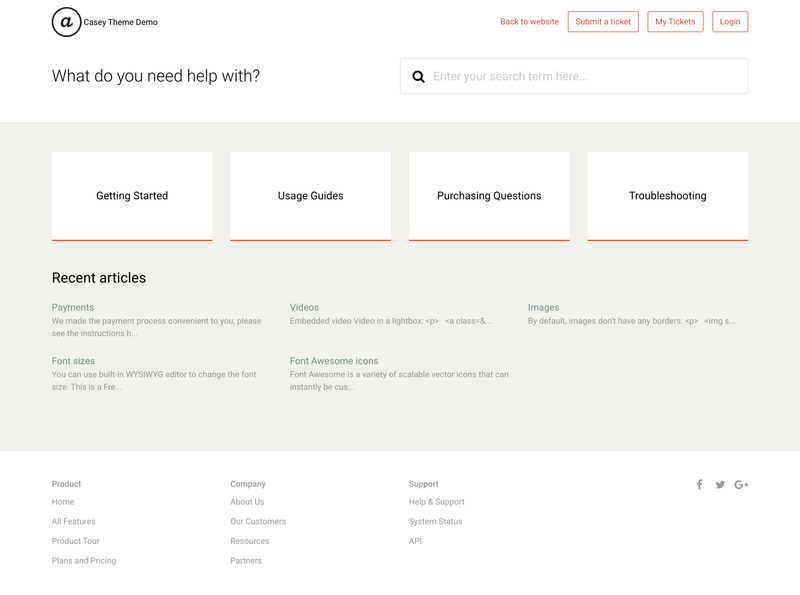 Custom Topic List + Recent Articles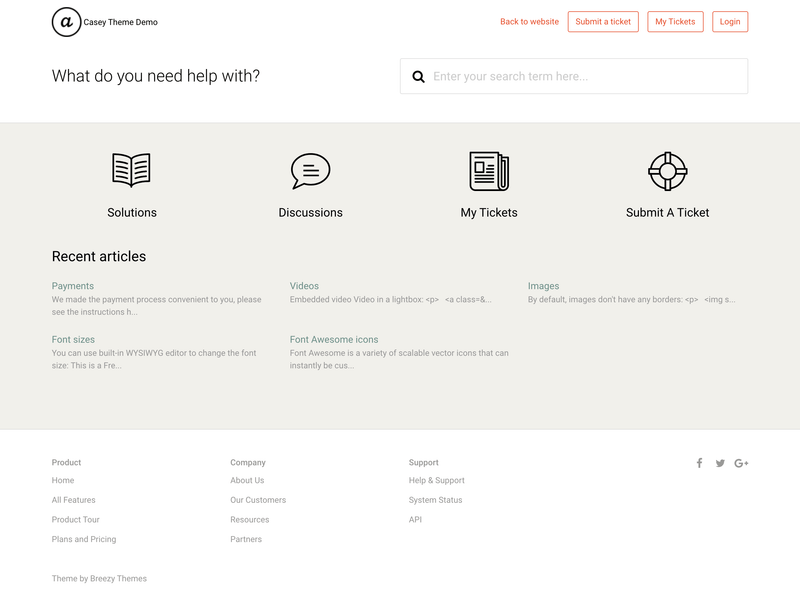 Custom Blocks + Recent Articles
Amazing forums, solutions and other pages
Every page in this theme is designed to let your readers have a great user experience.
Our Freshservice and Freshdesk themes are easily customizable
Installation
You can install your new Freshservice or Freshdesk theme quickly and effortlessly by following these simple steps on our support portal. You can also use our installation service free of charge.
Branding
If you want your portal theme to look identical to your site (homepage layout, fonts, colors, icons, hero image), you have two options. You can do it yourself if you can work with CSS and HTML, or we can offer Starter Customization.
Customization
Your developers can make additional changes to your portal as we've made the code clean and easy to work with. However, if you don't want to find the right candidate for this job, order Customization from us.
Main features
100% compatible with Freshdesk
Being an official Freshworks partner and knowing everything about their software, we offer many additional functional features.
Test drive all our templates
Try live demos of each template and its features to choose the most suitable one for your requirements before making a purchase
Instant access after the payment
Files will be sent within 5 min and you'll be able to import them to your portal. Customization is possible before publishing.
Font Awesome
670+ icons provided by Font Awesome come as a default feature to make your portal pages and articles more engaging and the way you want them to be.
Easily maintainable code
Our Freshdesk templates won't cause you problems because we look at every tiny detail of the code to make it crystal clear for your developers.
Advanced Freshdesk branding and customization
You can make your knowledge base look identical to your official site regarding look and feel, branding elements, extra visual components, and features, which go beyond Freshdesk templates.
Get a quote
Frequently Asked Questions
What are custom blocks?
They are known as static links to customer portal or website pages. You can change the titles, links, descriptions (depending on a chosen template), and icons. Besides, you can hide one block or several ones in the settings, and increase their number with the help of Customization.
What extensions are included in the theme?
The theme includes Additional Formatting Components.
Can I change the theme on my own?
You can brand and customize the theme yourself if you're aware of CSS and HTML. You receive access to the code that you can easily read and modify. To save time and get a design based on your brand or add more tailor-made modifications, you may choose Freshdesk and Freshservice Customization.
How to receive the theme upon buying?
You get an email with an archive containing files in 3-5 minutes. You can customize the theme before publishing it.
Do all themes support Freshdesk and Freshservice functionality?
Yes, they are compatible. As a Freshworks partner, we're aware of all their software's peculiarities and offer additional features that are not provided by Freshdesk and Freshservice.
Do themes support the Freshdesk and Freshservice multilingual feature?
Yes. Additionally, every theme has specific capabilities based on language.
Is it difficult to modify and maintain the theme?
No. It is simple to make changes and maintain the theme when you understand CSS and HTML. Our developers employ modern tools and check each step twice. Therefore, it will take you just several minutes to make small changes to the theme even if you are not a professional developer.
How are themes updated?
Freshdesk and Freshservice themes are generally updated automatically. If you need to add something manually, ask us for assistance or do it yourself. Buy one of our Care Protection Plans, and we will take responsibility for updates and functions that don't have automatic updates.
Which payment options are available?
We accept payments via global credit and debit cards, PayPal, checks, and bank transfers.
Detailed instructions
are provided on our portal.
Is it possible to change the theme or get refunded if I don't like it?
As we offer irrevocable and non-tangible products and services, we don't provide an opportunity to refund money because products are already sent to you. Still, we meet half-way with our clients in case of some
exceptional
circumstances.
It's time to get started with a truly intuitive support portal and squeeze all the best from what Freshdesk and Freshservice can offer!